Depuis quelques temps je contribue régulièrement à des parutions, de livres, de magazines (Graffiti Art bien sûr principalement) et même à un film documentaire, Bomb it ! réalisé par Jon Reiss sorti en 2008.
Invasion de Paris 2.0 par Invader
Plusieurs de mes photos dans ce nouveau guide d'invasion et surtout le grand plaisir que l'Invader m'ai demandé de lui écrire un petit texte qui tiens une bonne place dans le livre même si il était à la base beaucoup plus long.

No images could be found with that tag.
Graffiti365 – éditions Abrams
Trois photos pour Claudio Ethos. Un livre sur le street art très instructif, il est organisé en 365 chapitres qui vont chacun parler d'un artiste, d'un événement, d'une technique, ou en tout cas d'un thème aillant trait à l'art urbain. J'ai contribué en illustrant les pages de Blek le rat, C'Tink, Claudio Ethos, Fafi et JR.
Trois photos de C215 du côté de la Grande Bibliothèque dans la catégorie Outdoors.
No images could be found with that tag.
Paris, de la rue à la galerie
Editions Pyramyd. Ecrit par Nicolas Chenu et Samantha Longhi, j'ai toutes les photos de Space Invader en page 78 et une photo de Speedy Graphito en page 229.
A l'occasion de l'exposition du 7 juin au 3 juillet 2011 à la Générale et à la galerie Le Feuvre. Sur le récapitulatif des mille spécimens, j'ai contribué pour une vingtaine de photos.
Untitled.III – This is street art. Edité chez Carpet Bombing Culture. Très beau livre sur le street art en général. J'avais déjà contribué pour le Untitled.II, mais là, j'ai beaucoup de photos de divers artistes… Invader, WK Interact, JR, Fafi et C215.
Untitled II – The beautiful renaissance. Une photo d'un Space Invader en page 74
Nombreuses photos pour illustrer le sujet sur Invader et l'invasion de Paris à l'occasion de l'expo Invader1000.
No images could be found with that tag.
Double page pour ouvrir le sujet sur Swoon.
No images could be found with that tag.
Trois photos de l'autruche géante de Bonom et une du bon français de Pixel Pancho dans la rubrique Outdoor.
No images could be found with that tag.
Monographie de C215 aux édition Critères, collection Urbanité. Christian m'a demandé de faire partie des douze photographes qui illustreraient son livre par leur point de vue photographique et en écrivant un petit texte.
Opus Délis #12 – Jef Aérosol
Monographie de Jef Aérosol aux édition Critères, collection Opus Délis#12. Photo « All we need is love »
No images could be found with that tag.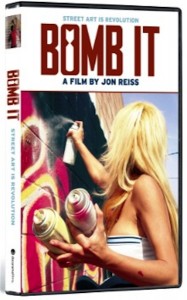 BOMB IT is the explosive new documentary from award-winning director Jon Reiss investigating the most subversive and controversial art form currently shaping international youth culture: graffiti.
Through interviews and guerilla footage of graffiti writers in action on 5 continents, BOMB IT tells the story of graffiti from its origins in prehistoric cave paintings thru its notorious explosion in New York City during the 70′s and 80′s, then follows the flames as they paint the globe. Featuring old school legends and current favorites such as Taki 183, Cornbread, Stay High 149, T-Kid, Cope 2, Zephyr, Revs, Os Gemeos, KET, Chino, Shepard Fairey, Revok, and Mear One. This cutting edge documentary tracks down today's most innovative and pervasive street artists as they battle for control over the urban visual landscape. You'll never look at public space the same way again.
BOMB IT was shot in Los Angeles, New York, Philadelphia, San Francisco, Tijuana, London, Paris, Amsterdam, Barcelona, Hamburg, Berlin, Cape Town, São Paulo, and Tokyo.